I MET WILLIAM CHRISTOPHER!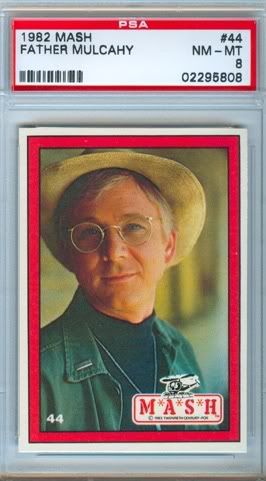 I just met Father Mulcahy two weeks before I expected to. He's doing a play nearby

kittencuffs
and I are totally gonna go see. It's "Our Town". I *HATE* "Our Town" but FATHER FUCKING MULCAHY is in it, so I'm going.
I was going to see "Rumors" at the regional theater with a friend I hadn't seen in a while (and another high school theater buddy, Charlie) on Friday since our former theater teacher, John, was in it. But she suddenly canceled finding out a friend had cancer! Me and Charlie decided to go instead on Sunday, since it was cheaper. Charlie suddenly canceled as he wasn't feeling well, so I texted

kittencuffs
but she didn't want to go, so mom and I went instead.
So I was standing in line to pick up our tickets when I turn to see a kindly old gentlemen in a bright blue sweater.
"I'm sorry, are you William Christopher?" I say, not wanting to sound rude. But then think: wow is that a dumb ass thing to say.
William Christopher smiles and says, "Yes, I am. I get that a lot."
I don't get to say much more as his wife gets his attention to go into the theater.
Son of a bitch! Before the show starts the owner of the playhouse introduces him to the damn audience, so during intermission he's stopped so much I never get the chance.
The play ends and he's sitting three rows away. Mom goes out to the lobby and I hang back to try and talk to him a little more. I don't wanna be pushy, him and his wife are out for some theater, ya know?
"I acted like a total dork before show! Of course, you're
you
."
"Luckily you where right!" He has the best friendly smile. You just want a hug.
He's still sitting in a seat so I sit in the row behind him, "You know I'm a big fan--"
"HI I JUST WANTED TO SAY I LOVED YOU IN MASH!" says this goddamn rude woman who just swoops in like a bird of prey. Right in his face. WTF goddammit I was talking!
So this 79 year old actor fucking bounds out of the chair as he sees the playhouse owner to catch up with her. He's gonna go see the actors. Well, I am too! I catch up with Patti, my theater teacher's wife. She tells me she's in "Our Town" too! And "Bill is so nice! He's so wonderful."
William Christopher praises the cast and talks to them a bit. He goes to chat with Patti and I say hit to John and James (someone else I know in the cast, that I didn't know was in it), get a hug and kiss from John goodbye (they gotta do a photo shoot) and by the time I get back to Patti, William Christopher and his wife are saying goodbye to Patti and leaving.
Oh well. I'll have to ask Patti if she'll ask him, if he'll do autographs and pictures after "Our Town".
But he was nice.
I MET FATHER MULCAHY!